GAP continues to receive an overflowing number of dogs. To limit the number of dogs in the shelter, some must be sent to boarding. Right now, these dogs need urgent fosters more than ever. Please consider being an emergency foster short-term or long-term.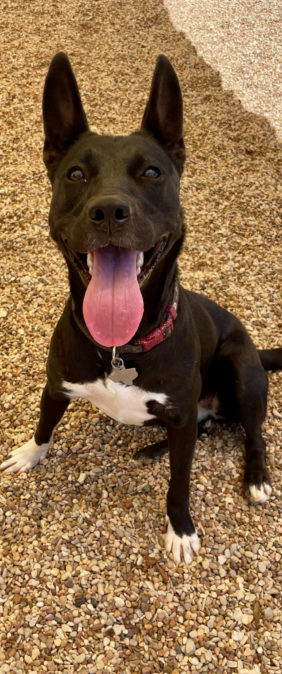 Are you looking for a sidekick? Miss Mavis, or should we say, Queen Mavis, will be just that and more. Like most Queens, Mavis is in charge and needs to be the pack's alpha to ensure everything is kept in order. She'll take the lead but be playful with younger pups and dogs that understand how the royal animal hierarchy works.
Mavis is all ears (literally), listens to her commands, knows when it's kennel time, and how to use the powder room properly. Her pearly white toes and chest resemble her smooth coat Border Collie mix, with the rest of her beauty coming from the Australian Kelpie side.
Mavis has been in boarding for two long months, but an unexpected road bump came her way. Mavis's records were incorrect, and now she is going into heat…at boarding. She cannot get spayed until she finds a foster home and needs someone to help her recover. Queen Mavis will compensate for all your work by providing smiling faces and endless snuggle time.
Goose's active lifestyle will help keep you on your toes if you're always on the go. This handsome boy is a sweetie pie who needs extra loving and patience to make up for all he's missed. Goose has been in boarding for six weeks due to heart-worm treatment. Now the treatment is over, and he needs a foster or adopter. He is neutered and ready for the first chance in a home.
Goose came in with his brother Cruise, who's at the shelter receiving training with an A on his report card. The pair are short-coat Boxer/American Bully mixes who were forced outside to fend for themselves. What that means is this wild child needs someone to help train and support him through his terrible two's!
Goose will be your best bud if you help give him love, support, training, and most important….snuggles! 🙂